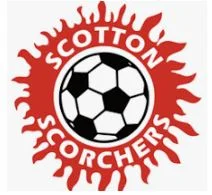 SCOTTON SCORCHERS JUNIOR FOOTBALL CLUB
Scotton Scorchers Junior Football Club, its many volunteers and its young players would like to extend a huge 'welcome' to all new players and their parents/carers and we hope you will become part of the football family, respecting our codes and ethos, and joining with the other volunteers to help the club to continue to thrive into the future.
WHO WE ARE AND WHAT WE OFFER
FA Charter Standard Club, affiliated to the West Riding County FA (WRCFA) committed to the FA Respect Campaign 'We only do positive'
SSJFC hold FA SSE Wildcats sessions along side coaches from the Leeds United Foundation for girls aged 5-11 years
Boys football from under 6 years to under 12 years, playing in the Nidderdale Junior Football League
Girls football from under 6 years to open age adult, playing in various leagues, City of York Girls Football League, West Riding Junior Girls Football League or the Harrogate and District Girls Football League.
We also run boys squads in Staveley village under the Scotton Scorchers badge
Over 300 boys and girls in total with over 30 qualified coaches together with other volunteers.
TRAINING AND MATCH VENUES
Our Home! Percy Fields, Low Moor Lane, Lingerfield Knaresborough HG5 9JB
Scotton Cricket Club, Low Moor Lane, Lingerfield, Knaresborough HG5 9HZ
Staveley Cricket Club, Bedlam Lane, HG5 9JU
King James School, King James Road, Knaresborough HG5 8EB (Grass pitches and 3G all-weather floodlit pitches)
WHAT YOU CAN EXPECT
All volunteers are DBS checked
All coaches qualified to FA Level 1 or above
All coaches undertake FA Safeguarding and Emergency Aid course
Club Welfare Team all with Enhanced DBS checks
Covid 19 Safeguarding Risk Assessment in place
OUR ETHOS
At SSJFC every child counts irrespective of ability. The club does not have a win at all costs approach and believes that every child should be given the opportunity to play at a level that they feel comfortable with and being supported to develop not only their football skills but communication confidence and social skills too. Our all-inclusive policy does not mean sacrificing competition or a winning mentality we believe we can achieve all these whilst the children enjoy their football.
Coaches use the 5 core elements of the English FA as the basis of their coaching methodology.
OUR POLICIES AND PROCEDURES
Safeguarding Children policy
Anti-bullying policy
Parents/spectators code of conduct
Players code of conduct
Coaches code of conduct
GDPR Data Protection Policy
GDPR Privacy Notice
HOW TO JOIN
All registrations and payments are through our website at www.scottonscorchers.com
Various payment options are available including a confidential 'hardship' scheme accessed via the club secretary Mike Collier on mikeandjanec@gmail.com As some of our squads have waiting lists all new applications should also be made directly to the club secretary.
VOLUNTEERING OPORTUNITIES
Scotton Scorchers is run entirely by volunteers and as such we welcome with open arms anyone who can help in any way, from joining our committee to helping with car parking or teas and coffees. You are also welcome to come to any of our committee meetings on an ad hoc basis.
COMMITTEE
Jonathan Parkin – Chair and Registrations
Mike Collier – Girls Lead & Facilities
Laura Considine-Pugsley - Secretary
Julie Simpson – Treasurer
Wayne Latimer – Lead Welfare Officer & Kit and Equipment
Yvette Clayson - Registrations
Jonathan Booth – Boys Welfare Officer, Boys Lead, Boys Registrations
Marcus Philpott – Coach Development
Paul Hickin - Pitch Co-Ordinator
Cameron Latimer - Youth Lead
Peter Lambley -
Alan Pollock - Website
Most of the above information can be found in more detail on our website at www.scottonscorchers.com but if you would like to have a chat about anything to do with the club please do not hesitate to contact either of us directly and we hope that you and your child/children enjoy many happy hours of football.
Best wishes
Laura Considine-Pugsley - SSJFC-secretary@outlook.com
Jonathan Parkin Club Chair Contact - parkin79@outlook.com